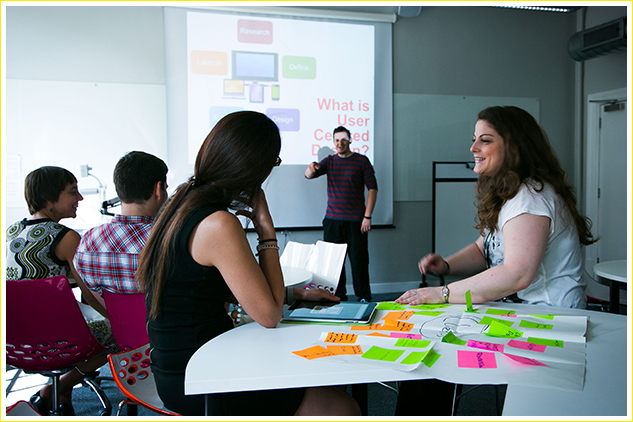 The digital landscape is changing. More and more project managers and developers are being asked to tackle issues commonly associated with user experience (UX), often with little or no formal training.
City Interaction Lab has developed a series of introductory UX workshops aimed at those with UX responsibility but lacking any UX training.
The core workshop topics are as follows:
Introduction to UX and the UCD process
User research techniques
Interaction Design and Information Architecture
Evaluation techniques
Each workshop lasts a day and involves a mixture of discussion with individual and group activities. The content of these workshops can be tailored to meet your organisations specific needs and additional bespoke sessions can also be produced on request.
The goals of the workshops are to provide a common language for project teams, get staff up to speed with UX fundamentals, and introduce them to design thinking. After completing the workshops attendees will have a raised awareness of users needs allowing them to produce better experiences. Attendees will also be able to accurately identify and describe UX issues and understand how they would go about resolving them.
Training for organisations
These workshops are currently available to organisations wanting to skill up their staff and can be run either at client site or at City University London with access to our Interaction Lab facility. If you are interested in organising training for your organisation then please call 0207 040 3087 or e-mail interactionlab@city.ac.uk for more information.
Training for individuals
We are planning to launch public training courses in late 2023, more details will be added soon. Please note, these workshops are aimed specifically at those for whom UX is an aspect of their role and requiring an overview the fundamentals. For those wanting to change careers then the MSc Human-Computer Interaction Design is more appropriate.