Below are details for talks being held at 3:30pm for reference only. If you would like to book a ticket to the event then please visit our HCID 2015 Day Ticket Eventbrite page.
---
Designing for Exploration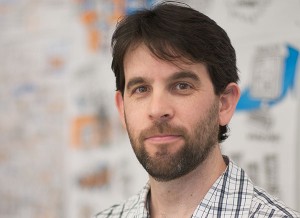 Andrew Merryweather (Thomson Reuters Financial & Risk)
Abstract: Where do video games and professional finance software meet? 'Finance work' usually conjures images of monitoring multiple screens of live data before taking buy/sell decisions, or running through repetitive analytics or calculation tasks. I would like to suggest that there is another flavour of finance work which might be characterised as 'creative exploration'. In this talk I'll take a look at a digital design context where the user task is clearly focused on exploration—open-world video games—and investigate whether design solutions from that domain can be usefully transferred to finance software.
About the speaker: I currently leads a team of interaction and visual designers in the Financial & Risk division at Thomson Reuters. We work on a wide range of applications used by people in many different job roles in the finance sector at a good cross-section of the world's major financial institutions. Earlier in my career I spent several years designing e-learning and m-learning packages and learning management systems. Before making the switch to design, for a decade or so I pursued a first career in archaeology.
Andrew on Twitter
Andrew on LinkedIn
---
Co-design: group therapy to bridge the client-user gap.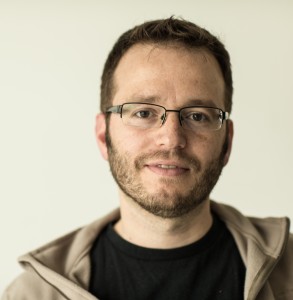 Stavros Garzonis (cxpartners)
Abstract: It's no surprise that observing users interacting with digital products can be eye-opening for our clients. However, empathising behind a one-way mirror is limited comparing to an environment set up for collaboration and creativity. Getting users and client stakeholders in the same room entails risks but can be a very valuable tool in your UX toolbox.
In this talk, I will discuss my experiences and offer practical tips about planning and facilitating co-design workshops, where clients and users get together to co-create.
About the speaker: Stavros is a scientist trapped in user experience consultant's body. He has been studying, teaching and practicing User Experience since 2002, building a diverse skill-set of UX research, design, management and mentoring. As a Senior UX consultant at cxpartners, he works with international brands delivering user research and design, but particularly hooked on the sweet-spot in-between.
Stavros also strongly believes in the value of community in UX (and in life). He was the President of UXPA UK and co-chair of UXPA 2014 International conference, and still actively involved as a UX Google Expert.
Stavros on Twitter
Stavros on LinkedIn
---
Design is a journey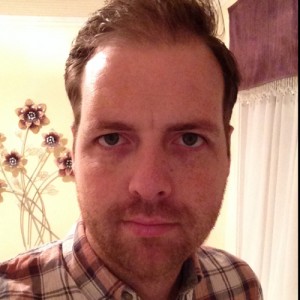 Wes Houghton (BAE Systems Applied Intelligence)
Abstract: It's a long and winding road to designing great products and services. But by bringing along the right travel companions, asking the right people for directions, never losing sight of why we are travelling and just enjoying the view, we can make the journey a pleasurable one.
About the speaker: Wes has a passion for creating empowering digital experiences, and has been doing just that for over 14 years. Working with brands such as Sony PlayStation, Vodafone, Transport For London and Channel 4. Wes is a true believer that good design comes from the fusion of business needs, customer insight, smart technology and creative expression.
BAE Systems Applied Intelligence on Twitter
---
Why does UX matter in B2B applications?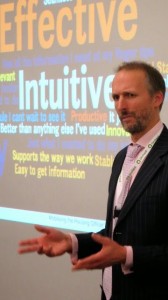 Hamish McDermid (Orchard Information Systems)
Abstract:
The talk will look at how Orchard Information Systems are taking UCD into areas that are more traditionally associated with functionality over user experience to create best in breed applications that are built around the end user experience as much as they are around the business processes.
About the speaker:
I am managing a project to deliver a new mobile working product to customers operating in the social housing sector. I have been involved with mobile working projects in the utilities and social housing sectors since the late 90's both as a customer and a supplier, mostly from an IT perspective. This is the first time in my career I've been involved with UX and it's been an eye opener so far!
---
Dyslexia and its impact on search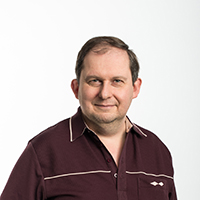 Andy Macfarlane (City University London)
Abstract: A key aspect of searching is the ability of users to absorb information from documents read in order to resolve their task. One group of users who have problems with reading are dyslexic users, who due to underlying cognitive impairments in phonological processing and working memory, tend to read more slowly and make reading errors. The purpose of this research is to examine the impact of the dyslexia cognitive profile on information searching. Two studies were undertaken, a pilot study and a small study to further investigate various issues apparent from the pilot study. In the small study, searches were logged for 8 dyslexic and 8 non-dyslexic (control) university students, in order to examine the differences in searching behaviour between the two groups. A set of literacy and phonological working memory tasks were also completed, in order to investigate the relationship between these cognitive variables and searching behaviour. Results show that there is a significant difference between the two groups on the number of documents being judged irrelevant, and that this cannot be explained by a topic effect. Instead, the number of documents judged irrelevant is significantly correlated with a measure of working memory. This key result provides the research community the first real insight into impact of impaired working memory on information searching.
About the speaker: Andy is a Reader in the Department of Computer Science at City University London, and is a member of the Centre for HCI Design. His research focuses on a number of area in information retrieval including cognitive disabilities in information retrieval (dyslexia in particular), image retrieval, social media search and mobile search. He a member of the BCS Information Retrieval (IRSG) specialist group.
Andy on Twitter
Andy on LinkedIn
---
The future of creative search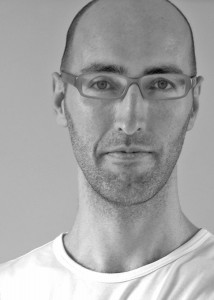 J. Paul Neeley (Yossarian Lives)
Abstract: Search engines today are incredibly powerful tools when we know what we are looking for, but when we don't know what we are looking for, in moments where real creativity is needed, traditional search techniques can prove a bit of a disaster. They become self referential echo chambers, reinforcing existing and popular ideas and doing very little to support truly new concepts. In this talk we'll explore new directions in lateral & metaphorical search approaches that look to support creativity and facilitate discovery on the web.
About the speaker: J. Paul Neeley is the co-founder & CEO of creative search engine Yossarian Lives. A multidisciplinary designer and researcher currently based in London, he has a background in Service Design, Speculative Design, and Design Research & Strategy. J. Paul has worked professionally in health care experience and delivery at Mayo Clinic's Center for Innovation and Teton Radiology, and in consumer & market insights at Unilever. In addition to work on creative search at Yossarian Lives, he explores happiness optimization at MMSZ, and consults in Service Design at Neeley Worldwide. J. Paul is a tutor in Service Design at the Royal College of Art, and has guest lectured at Imperial College: Computer Science, NYU: ITP, HfG, and SVA: Design for Social Innovation. He hold an MA in Design Interactions from the Royal College of Art, and is a graduate of Northwestern University.
J.Paul on Twitter
J.Paul on LinkedIn
---
See what else is on:
1:00pm Talks
1:45pm Talks
2:30pm Talks
3:30pm Talks
4:15pm Talks
5:00pm Talks